庆祝中国新年!(Celebrate the Chinese New Year!)
Advertisement
Hang on for a minute...we're trying to find some more stories you might like.
One of the biggest celebrations in Asia is Chinese New Year, coming around this year on Tuesday, Feb. 5. Many people across the globe celebrate this day. In fact, a little over 20% of the world's population embraces this holiday. Chinese New Year is a celebration of the new year, with each year represented by animals. This is the year of the Pig!  The pig, in the Chinese Zodiac, represents great wealth in Chinese culture.
However, some people around the world are unaware of the activities or even the occurrence of the Chinese New Year. It starts on the 2nd new moon after the Winter Solstice (which is Feb. 5 this year) and lasts 14 days, ending on the full moon, Feb. 19th.  The Spring Festival held from Feb 5-15 is another ceremony.  This celebration starts with firecrackers and greeting neighbors. Firecrackers and the color red are believed to scare off the dragon that is central to the New Year's celebrations.
The Norman North Chinese class celebrated Chinese New Year on  Feb. 5th with lots of food and red pockets, which are red envelopes containing money that are given to children; Red envelopes represent celebration and hope for a year of good fortune. Thomas Richardson asked our Chinese teacher, Alice Nan, to describe Chinese New Year:
"You have Christmas; Christmas is the biggest holiday in the nation. To come home, to get together for the [Chinese] New Year, you will have a reunion dinner; and on the table, fish is a must, dumplings are a must. And why do we eat fish? Because it means we will have abundance in the next year. Abundance means about everything. And dumplings because the shape of dumplings look like egg nuggets; and also we eat new year cake [also known as moon cake] because if we eat new year cake, it means we will get promoted. Either promoted or we will get taller. And then on midnight, people will play with firecrackers [and] fireworks to celebrate Chinese New Year."
"And why do we celebrate the Chinese New Year? Because it is a legend; in ancient times, there is a monster… the monster's name [was] Nian. So the monster would come out of the forest to eat people. So people would wear clothes in red to scare the Nian because the Nian was scared of red color. Then people would [light] firecrackers to scare it off, so that's why we [light] firecrackers and fireworks. And during the Chinese new year, people would go out to greet each other or visit their relatives. [There would be] no school for 2 or 3 weeks, the stores would close for 5 days, and people [would] not have to go to work [so they could] stay at home and celebrate it."
Another tradition is to abstain from sweeping or cleaning, lest good fortune be swept away.
While the celebrations do not end until Feb. 19, the Lantern Festival (millions of small, colorful paper lanterns, "like miniature hot air balloons" are released into the sky) is held from Feb. 16 to Feb. 19. This festival celebrates hope, reunion and society and has been part of the Chinese New Year tradition for over 2000 years.
About the Photographer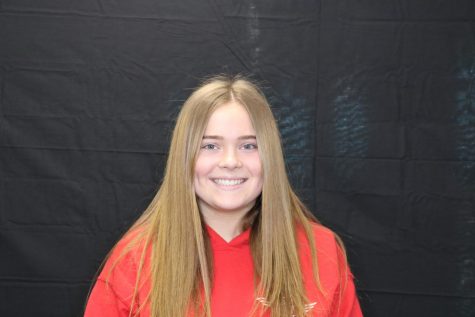 Macie West, Sports Editor
My name is Macie. Freshman at Norman North High School. Photographer and reporter for the Yearbook and Newspaper.