OBI Draws First Blood
Advertisement
Hang on for a minute...we're trying to find some more stories you might like.
In an attempt to help out the community, Norman North DECA is holding one of its two annual blood drives today in the South Gym Friday, Feb. 22; allow students the opportunity to give back to their community.
The DECA officers are hosting the blood drive, which was already busy in the early hours of the morning and expects more traffic throughout the day. The club was also able to get the Oklahoma Blood Institute to help individual students interested in giving blood, which, according to one doctor, covers "all of the OKC metro."
"We've been coming here for a few years; I think four or five," said OBI employee Lauren when asked about their history with Norman North. "We had come here before but stopped for a while. We also go to Norman High, we go to all the Moore high schools, schools in the city. We're OKC mobile, so we cover all of the OKC metro. We go to pretty much every single high school, give or take a few all the way out west."
Students must be at least 16 years old to give blood, and students under 17 must bring back a permission slip signed by their parents. Students of all ages are required to show a form of identification, which could be either their permit or their driver's license.
"I want to say every seven to ten seconds someone needs blood," Lauren continued. "We try to keep at least a two to three day supply in our fridges at our lab. It all just depends on weather, it depends on if there's a natural disaster; things like tornadoes [and] hurricanes. The Murrah Bombing [was a situation where] people needed a lot of blood. Things like that kind of effects when and how people need blood. I don't really know a number of how many people we've helped."
The OBI has several promotions to thank the people who give blood. One of them is their promotion from Feb 1 through April 30 that gives every blood donor the choice of a coral, sky blue, or gray t-shirt that features an inspiring quote on the back. Lauren also talked about other thanking efforts that the OBI is giving to its donors.
"We do have a program called 'Thank the Donor,' and if you donate blood, you'll sometimes get emails saying 'hey, this is somebody that you helped,' and it'll have a little statement saying how you helped them."
About the Contributors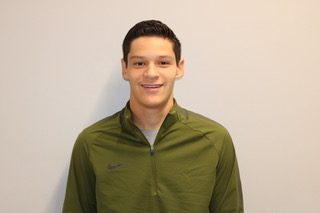 Matthew White, Senior Editor
Senior editor of The Howl and editor-in-chief of The Everyday Republic. Very reserved at school, has made a lot of long-time friends from playing football.
Kayla Henning, Contributor
I am a Freshman and this is my first year in yearbook & newspaper.  I love to play instruments.  I show horses in my free time.  I also enjoy hunting...