Headed to State
Advertisement
Hang on for a minute...we're trying to find some more stories you might like.
On Saturday, March 2, the girl's basketball team played against Edmond North at Western Heights High School in a game that would determine who would go to the state tournament in Tulsa.
The contest began with Norman North getting the first possession of the game and the first points on the board. The first quarter was tenaciously contested by both teams, with Edmond North ahead by one point to start the second.
Jessika Evans sunk a three-pointer to get Norman North back in the lead with five minutes to go in the second quarter. Just before the quarter had ended, Jacie Evans went up and made a layup and put the lady T-Wolves ahead by nine points before the half.
The third quarter was huge for Norman North, staying ahead the whole quarter. After an unwanted foul committed by Edmond North, Jessika Evans was headed to the free-throw line, something the Huskies could not afford. Norman North was put ahead by two after Evans made both free throws, making the score 36-34. To make matters worse for the Huskies, Kayton Kite dropped six points with just a minute left in the third quarter.
The score at the beginning of the fourth quarter was Edmond North 39, Norman North 42. The bench never left their feet throughout the fourth quarter, with the crowd following suit. With only four minutes remaining, Kennedy Cummings was sent to the free-throw line, making both of her shots. She wasn't done, however, as she was fouled yet again and sent to the charity stripe, where she put two more points on the board for the lady T-Wolves, scoring four points in the last two minutes of the game.
The final score of the game was 54-49 Norman North.
The lady T-Wolves will be playing in the state tournament at Tulsa Memorial High School, which will start on March 7th and feature some of the best teams in the state competing for the championship trophy.
About the Contributor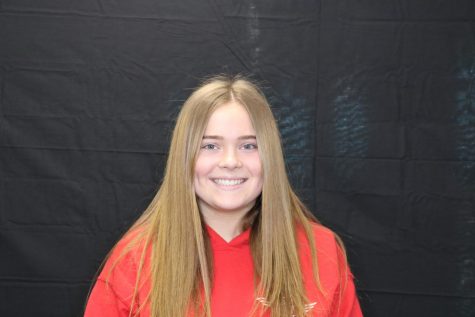 Macie West, Sports Editor
My name is Macie. Freshman at Norman North High School. Photographer and reporter for the Yearbook and Newspaper.