Fair's Fair
Advertisement
Hang on for a minute...we're trying to find some more stories you might like.
Norman North extended its arms to possible incoming Timberwolves by offering the course fair from 6:00 PM to 7:30 PM throughout the school on Wednesday, Feb 20, making many parents happy and excited to see everything North has to offer.
Parents and students could visit any booth they wanted that represented an elective or a core class at North. There were several teachers who taught the same subject attending the booths and explaining their classes to interested parents and future students. When asked, principal Peter Liesenfeld explained that the purpose of the night was for families, "to see the offerings that we have at Norman North."
"We have the course fair for Norman North tonight; it's for all incoming eighth graders and their families to see the offerings that we have, not just for classes, but also electives [and] athletics." Dr. Liesenfeld explained, "Just experience what different options they're going to have when they get to high school. In middle school, you're pretty well locked into the core subjects and the electives that they have. We have five world languages and 26 AP offerings. We have a variety of athletics [and] fine arts. We've got huge offerings across the board, so it's good to get exposure to everything that we offer. Then students can make better decisions on what they're interested in."
Parents were given syllabi and other paperwork relating to possible high school courses that their kids could take next year. Some even talked to Dr. Liesenfeld about the courses and the general feel of Norman North.
As the event came to a close, there were a lot of satisfied parents and students, including parent Jill Davis, who thought that the informative booth setup that North solicited was "pretty much what I saw."
"[The course fair] helped us look at course progression and what to take, and just gave us a better understanding of the layout of the building. I think this will be a good school."
About the Contributor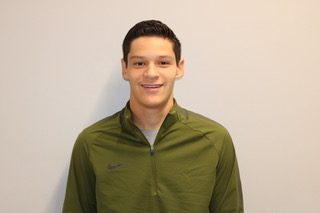 Matthew White, Senior Editor
Senior editor of The Howl and editor-in-chief of The Everyday Republic. Very reserved at school, has made a lot of long-time friends from playing football.