Jazzed Up Christmas
Advertisement
Hang on for a minute...we're trying to find some more stories you might like.
Jazz Band performed last Friday, Dec. 7, in the Norman North band room in what was their first performance with both jazz bands, performing several songs in front of family and friends.
Many people attended the event, adequately filling the entire band room with cheering fans ready to hear their hometown band perform.
Before this year, the jazz band had been made up of only one group. However, this year, band leadership decided to split the band into two groups, allowing for more kids to be involved in the making of music.
The night began with the second jazz band, or as the members call it, .5 jazz band, playing Swing the Songs of Christmas. There were no solos in this song, something that changed in the next song and every performance after that. Next was The First Noel, with solo performances by Michael Trumbo on saxophone and Katriel Files on Trumpet. The third song was Blues in Hoss Flat, with Michael Trumbo again performing a solo.
The second jazz band finished their performance, making way for the bigger band to come in and start tuning their instruments before the concert. Unlike the smaller band, they had six songs to perform, all with student solos.
One member that was active in solo performances for the big band was Nathan Plecthetero, who soloed in The Lady is a Tramp, Ornithology, and Celestial Swinging Blues. However, David Bruce, who played the piano for the band, was introduced as an all-state performer, and was able to show his skill in the third song Let it Snow! Let it Snow! Let it Snow! Ben Egan soloed on Flugel in I Remember Clifford, and T.J. Wilkinson on alto, Zach McClain on Trumpet, Nathan Pletchetero on tenor, and Ben Curtis on trombone gave stunning solo performances in Celestial Swinging Blues. The closing song was Sleigh Ride, which sent off the audience with a Christmas theme to remember the night.
The conductor of the first jazz band was Jared VanVickle, who gave a glowing review concerning the performance of both bands.
"I thought it was a great concert," VanVickle said. "It was really exciting to have, for the first time at [Norman] North, our second jazz band. I was telling some parents [that] the progression of where these kids were after just a month versus where they were in this jazz band. You just heard Mr. Davis' group after, you know, one, two, three, or even four years for some of those kids. It's really cool to see how much they can improve and how much potential there is. Plus, they sound good."
Both jazz bands sounded great, and really impressed the parents and the audience as well as supporting students. Be sure to look at the Norman North calendar for future performances during the winter season.
About the Contributors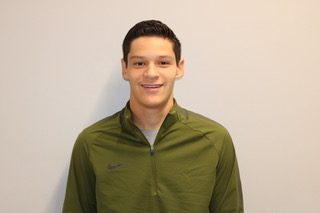 Matthew White, Senior Editor
Senior editor of The Howl and editor-in-chief of The Everyday Republic. Very reserved at school, has made a lot of long-time friends from playing football.