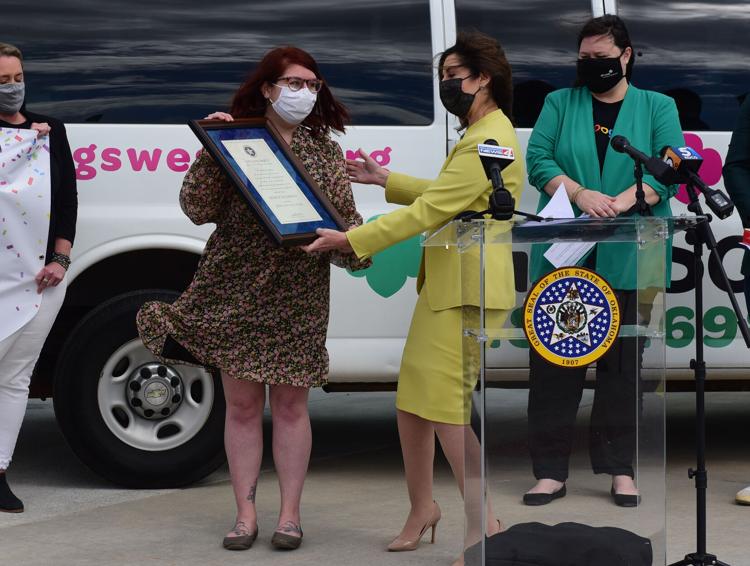 Kyle Phillips / The Transcript
Out of twelve finalists, North's own Mrs. Eschbach was awarded Oklahoma's state Teacher of the Year! Mrs. Eschbach reported that with the award came "lots of Girl Scout cookies. I got a $5,000 check from the [Free] Masons, basically to do with what I would like. I was given a lot of amazing plaques and certificates and then I have quite a few colleges in the area that gave me graduate credit so that I could pursue higher education at their school, so that's been really exciting."
Mrs. Eschbach is the innovative learning coach, which means she gets to works with and "help teachers create lessons," Eschbach said, "find new educational technology, help them with Canvas problems, and then I also get to teach lessons with them."
In her interview she responded to many questions about the award.
Q: What struggles have you faced, not only through COVID, but through your career as a whole?
A: Especially with COVID, it's kind of difficult to make sure that, you know, the kids are okay. Before this, I worked at Kennedy Elementary School and that's when COVID hit, and a lot of those kids, you know, kind of went off the grid and it was really scary because when you're a teacher your kids become your kids forever, and you want to make sure that they're okay. So that's always been a struggle, but I've really enjoyed my time in Norman and being a teacher. I think that we have a lot of freedom and I've been able to kind of pursue what I love. But COVID has made it more difficult to make that impactful for students.
Q: How did you overcome them?
A: It's really just about being creative with COVID, especially when I'm helping teachers come up with things. For students when they're at home, it's about being creative and giving students a lot of choice in the way that they show their learning. So it can be hard to give up that control, but when you give students more options, they're more likely to engage and I think that that's a good thing for all teachers to do. Just really thinking outside the box.
Q: What successes have you faced through COVID? In your career?
A: I've been a teacher for eight years, I was named a Site Teacher of the Year twice, once at Alcott Middle School and then once at Kennedy. The last year as a district Teacher of the Year, and now I'm State Teacher of the Year for Oklahoma. And then I've been able to mentor new teachers and have student teachers from Ohio, which I really love to do because it gets good teachers into our buildings and hopefully keeps them in Norman.
Q: What motivates you to continue to work hard, despite the countless hurdles?
A: Oh, I love the job, I mean I do feel like I was meant to be a teacher. I come to work and even when Canvas isn't working or everyone's frustrated, it's a real family atmosphere. It's really the enthusiasm and the push for trying to do my best and actually make an impact on you guys (the students).
Q: How did you feel when you were announced the winner?
A: Shocked. I never expected to be district Teacher of the Year and I really really never expected to be State Teacher of the Year, so I was really shocked and really humbled. The other 11 finalists are amazing educators, and to be named with them was really an honor.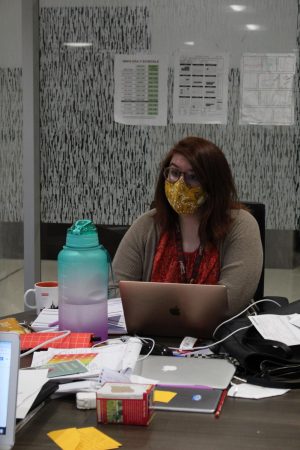 Q: What does the award mean to you?
A: I mean, it's bigger than me, it means that somehow people have seen it in me to represent Oklahoma teachers and Oklahoma students and to make changes that will hopefully help everybody. I feel like there's a weight on my shoulders but it's also an honor, and it makes me want to work even harder to make a lasting impact on the state.
Q: How did your family and friends react?
A: They're really excited! I'm probably the most excited for the 2000 boxes of Girl Scout cookies that I was given. You know when you get to share food with others, they get really pumped, but they were really excited and, you know, just have a lot of questions about what comes next.
Q: Norman Superintendent Nick Migliorino described you as a "leader of teachers." Explain your thoughts on this statement and what it means to you.
A: It means that I've been given opportunities to be a leader, I know that not all school districts or schools let that happen. But I've had really supportive mentors and bosses in this district that have let me be a department chair or team leader, or, you know, step forward into leadership roles so really what it means is, I've been given a chance, and I hope to do that for others.
Q: What happens next?
A: So I will not be here next year, I go on a sabbatical starting on July 1 and I will work for the State Department of Education, and kind of go on a speaking tour. I'll talk to other teachers, I'll talk to state leaders, I'll talk to college students who want to be teachers. And then I also am now in the running for National Teacher of the Year, so I do the national application process and work with some people at the state level to get that all submitted. And then after that, I'll be back. So after a year doing that I'll come back to Norman.
Q: What are your plans for your future as an educator? How do you intend to get there?
A: So, I am hoping to take on either a site leadership role like assistant principal or eventually work at the district level, hopefully in a way that mentors, teachers and helps new teachers really gain their footing and feel confident so that's my ultimate goal to work with new teachers.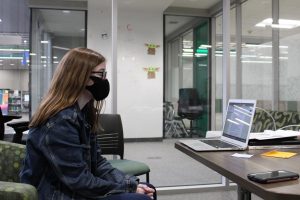 Q: How would you advise an educator or student who says they feel swamped in online work?
A: I would tell them I get it. It definitely feels overwhelming, but if COVID has taught us anything, it's that we need to open up our circles. We need to find the people that can help take that burden off of us. So reaching out to educators across the state and the district, and bouncing ideas off each other, and sharing resources, so you're not having to do everything by yourself. We got thrown into this, but it's not always going to be this hard. So we're getting a lot better, and things will come down. Just keep going through it.