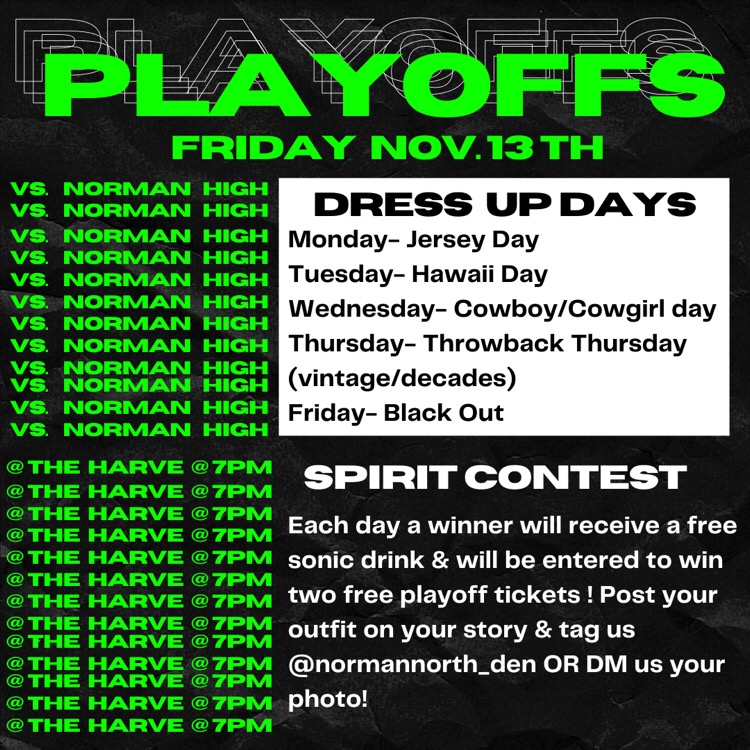 North-High spirit week was last week celebrating the 1st round of playoffs for football, where we played our city rivals, Norman High.
The Spirit days were Monday, Jersey Day; Tuesday, Hawaii Day; Wednesday, Cowboy Day; Thursday, Throwback Thursday (vintage/decades); and Friday, Black Out.
Each day students could post a picture of themselves dressed up for the spirit day on an Instagram story and tag the DEN Instagram account (@normannorth_den). From there DEN chose a winner (except Friday). One winner was selected each day, and they got a Sonic drink and were entered to win two tickets to the historic, playoff version of the Crosstown Clash. Jersey Day was won by junior, Jayleigh Work; Hawaii Day was won by junior, Cory Hauser; Cowboy Day was won by senior, Chloe Luczycki; Throwback Thursday was won by junior, Thomas Richardson. On Friday students voted for Thomas Richardson as their favorite participant who won the two tickets to the game.