Students Signing On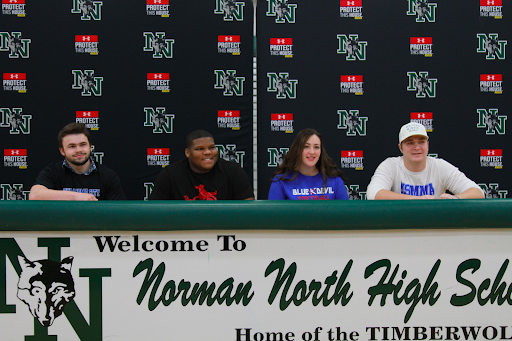 Hang on for a minute...we're trying to find some more stories you might like.
Four more Norman North student-athletes signed with colleges in the North Gym Wednesday, Feb. 8, adding to the 13 seniors who signed in November, making the total number of T-Wolf student-athletes beginning their collegiate careers at 17.
The first student to sign with a college was Bo Kemmet, who signed with the United States Merchant Marines Academy (USMMA) to play football. At North, he rotated through several positions, including offensive lineman, kicker, and punter. He was also voted as the COAC Special Teams Player of the Year this season, which is no doubt one of the reasons the USMMA wanted him so much.
The next player to sign was Ja'vion Combs, who also signed for football, this time with Northwestern Oklahoma State University. Combs, like Kemmet, was also an offensive lineman, but was exclusive to the position. At Norman North, he was a favorite at the position and "liked by all of his teammates," according to teammate and middle linebacker Matthew White.
"Ja'vion is a great person," White said. "Everyone loved him for how funny he was and how good of a person he was. He was also a player who genuinely wanted to get better at what he did."
The 3rd student to sign was Blake Yohn, who committed to Oklahoma City University for cheerleading.  As a Timberwolf, Yohn also did Track & Field. His father, Mr. Chris Yohn, teaches physics at North as well as AP Chemistry. His mom, Mrs. Shawn Yohn, works at Cheers & More in Edmond, Oklahoma, and has occasionally helped out with the Norman North cheer team.
The last student-athlete to sign was softball player Alex Martin, who signed with Kansas City Kansas Community College. KCKCC is located in Kansas City, Kansas, and has a great track record among attendants.
Students continue to sign with colleges year-round, and there might still be some college prospects in spring sports such as golf, tennis, or baseball that haven't signed but are being considered.
Stay up to date with The Howl while we break the advancements of our student-athletes.