Students Upset With NPS Over In-Person Schooling
On Friday, September 23, 2020, Norman Public Schools released its plan for phasing students back into a traditional learning environment, which will be traditional, full-time, in-school learning like it was before COVID-19. This plan only covers people who chose traditional or in-person attendance during enrollment. The plan includes remote online learning from September 28th to October 2nd, an alternate schedule where group 1 would go back on October 5th, and group 2 would go back on the following day. The Wednesday following group 2's return to North is deemed for office hours for teachers, and after Wednesday it will be fall break. The following week after fall break, both groups will return to school full time. 
Some students saw this plan and were disappointed and upset with it. Those students believe that student safety is no longer the first priority of NPS. Hope Anderson (12th) said, "I was upset by NPS abandoning the original plan [the alternate schedule with the 2 groups] partway through the year." Hope and other students from North, came up with the idea of protesting at the NPS Administration Building on September 30th to remind the community that students have a voice, and that their voices are heard. Hope's story was picked up by KOCO 5.  NPS released a statement that followed the broadcast stating the district's stance, "We absolutely understand if students have concerns with returning to school, which is why we have continued to provide options for students and families…They may choose to participate in a blended program or one of our full-time virtual programs, which are designed to serve students and families who do not wish to have students in our school buildings."
A poll circulation through the district indicates that many students are against going back to school on October 12th. Students claim that a premature return to traditional learning could be "unsafe."  " I think we need to prioritize an alternative schedule like before." One student said,
"
Having recently lost someone to COVID-19 and having [an] immune and compromised family, I'm worried that I would contract the virus and transmit it to one of my immunocompromised family members"
— Student
Another said, "I'm gonna die from the stress." One student that promotes the return to traditional schooling said, "Take precautions but BACK TO SCHOOL BABY! Grades will improve too." Another simply said, "Online sucks,"  and yet another student said,  "It is difficult for me to learn online and hard to stay motivated, so, for me personally, it is just easier to learn in person."
As of now, whether or not everyone agrees with going back to school on October 12th, students that enrolled in traditional (or in-person) attendance will return to school that day. 
Sources:
KOCO 5: 
Video https://youtu.be/IHKBy_kGx7o 
Article https://www.koco.com/article/norman-students-to-protest-districts-decision-to-return-to-in-person-learning/34213670 
About the Writer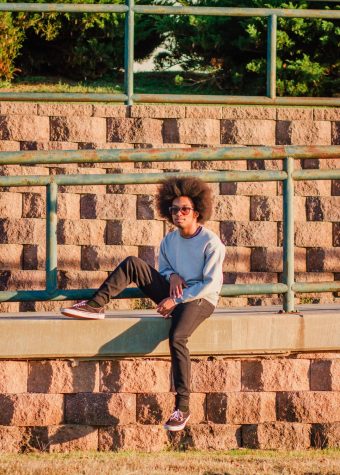 Thomas Richardson, Editor/Admin
Hello Reader, My name is Thomas Richardson, I am currently a Junior at Norman North High School. This is my 3rd year working on this newspaper. Besides writing, I sometimes photograph events and games. In my free time, I enjoy playing video games, watching or making youtube videos, and playing soccer. Besides this wonderful paper, my school involvement includes being the Junior Class President, and being "that kid with the afro" or "the camera guy".