Spirit Week Wrap-Up
Less than two weeks ago, North beat High in the Crosstown Clash. Let's see how Norman North showed its school spirit.
Monday was Western Day. All day long students of Norman North high school could be seen wearing all kinds of cowboy get-ups. This is a big part of this year's Spirit Week, leading up to the famous football Crosstown Clash. There are many themes that go on during the week but this is definitely a fan favorite, and the most natural for students, as they are typically in boots and jeans anyway. Add a cowboy hat and this day is made. This is what Ella Jones and Hannah Fields think about Western Day "I think it's good and it's a good theme and it's a good way to start Spirit Week" Ella Jones said. "I agree," Hannah Fields said. A lot of the student body was dressed for the occasion. Most of the students were excited to show off what they were wearing.
Hawaiian Day was Tuesday, August 30th. The eventful day had people dressed up in Hawaiian-themed items like shirts, flower necklaces, swim trunks, and other items. John, a senior, had this to say after being asked what he thinks about Hawaiian day, and Spirit Week as a whole, "I forgot it's Hawaiian day ya know, but Spirit Week is great, amazing, way better than Norman High!" Then, Joaquin, another senior who had dressed up for Hawaiian Day, joined in and proclaimed loudly, along with John, "YEAH! BEAT HIGH! BEAT HIGH!" It seems people were extremely excited for Hawaiian Day, and Spirit Week as a whole. Another topic people are talking about is that is Hawaiian Day insensitive to Hawaiian people. I asked Davian, a senior what he thinks about the subject, "I don't think Hawaiian Day is insensitive, but it might offend people? I dunno homie" Davian said. It's a fascinating topic to think about. I do not think Hawaiian Day is insensitive, it's a way to celebrate the culture, and raise school spirit. From the interviews, it seems that the students have a lot of school spirit, especially for Hawaiian Day.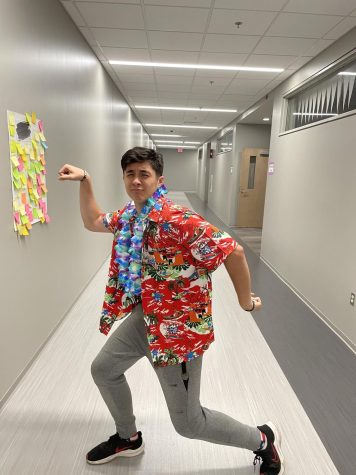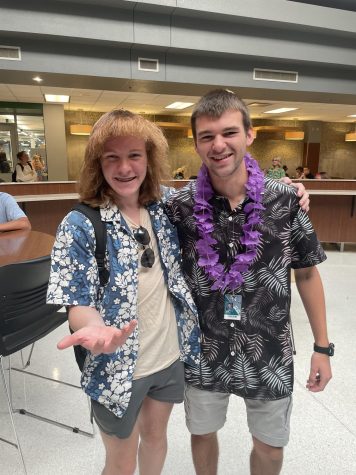 Last week was full of fun and decorative clothing due to it being Crosstown Clash. Wednesday, August 29th was USA day. People wore red, white, and blue to show their patriotism. Stuemky had a competition for most USA wear for a certain percentage for extra points. When asked about USA day, "USA day was probably the most impactful day of my entire life" said Tage Rex, senior. Also when asked about USA day "Uh…none of the students are patriotic" Jackson Rodgers Senior.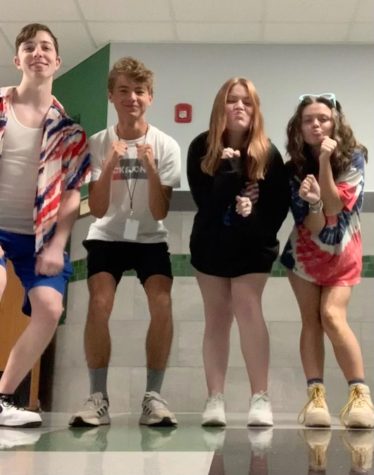 White-out was chosen for the last day of the spirit week to end off the week with a blast. All students were tasked to wear all white in support for the upcoming cross-town clash. Spirit is a big part of getting riled up for games, so this day was especially important. "i think last weeks spirit week was real fun," said Coco Zorba, "not only was it super cool to see everyone with the black lights during the assembly but it was just really easy to do." Seeing everyone in uniform and wearing white shirts brings the crowd together. Cheering from the stands, the blinding white unites the T-Wolves as a whole. Though the game was rained on, the perseverance was towering. This was a great chance to end the week with a bang, and we did just that.