An Unexpected Visit From The Mayor
Hang on for a minute...we're trying to find some more stories you might like.
On January 31st, the mayor of Norman, Breea Clark came to Norman North. At lunch, I got the chance to ask her a few questions.
Thomas Richardson: So what brings you to Norman North today?  You're not usually here…
Mayor Clark: I'm not usually here. I have been here before to speak to student groups and other issues and whatnot. But we're specifically here today to eat lunch because I actually am from Wichita, Kansas and have never eaten a school lunch in our schools as a student. And I have, like the superintendent, a kind of Student Advisory Board, I call mine, the Student Resident Roundtable. And I had a middle school student share their concerns about school lunches, like residents of all ages, many of them kind of blend the boundaries between city and school and we are separate entities. But Dr.Migliorino and I realized how important it is to work together, and so we actually have a monthly meeting just to talk; talk and touch base and [find] how we can collaborate. And I mentioned this kind of critical feedback and he immediately suggested, 'Well, come try it!' And so this was the next meeting we had scheduled and we're here at Norman North and this is actually where I live, in this school district. So it's exciting to get here and talk to the students about their experience, the lunches, talk with the staff, and try it for myself, and it is delicious! I'm loving it. 
TR: What are your goals as mayor?
MC: Well, there are a lot of major issues facing our community as they're all Oklahoma communities. But I'd really like to finish our Norman Forward Projects. I know people are really waiting on those and we're looking forward to it. We need to get our budget in a healthier place and we need to move forward on our sustainability goals…. We've made a lot of progress on continuing our motto of "Building an Inclusive Community" and that will always be something I continue to work on as well. And I want to make sure that we're diversifying our boards and commissions and getting as many people involved in local government as possible. And we've done that in several ways. And one of them…which is why I'm here today, is involving younger residents to my Student Resident Roundtable. 
TR: How are you going to help Norman North and Norman Public Schools, through the projects that you have going on?
MC: Well,  I involve students in a variety of different ways. You know, Norman Public Schools and the city of Norman are different. We are partners and we work together in a variety of things. But finishing the Norman Forward projects will benefit all Norman residents, especially students because it tends to be for youth sports. The Student Resident Roundtable allows a direct line of communication to the mayor about issues that younger residents are facing. I'd actually love to work with the school district on tackling vaping I think that's a great opportunity for collaboration involving you all and again, sustainability goals and issues, and educating the public, and making sure that when you turn 18, you're getting registered to vote, because that's how you make a difference in your community. So those are just a couple of the ways that I'm looking to do that. Another fun one that I'm working on right now. I'm doing Read Aloud Day with CASP at my son's elementary school Adams. I'm organizing a Girls Empowerment event at the City Hall on International Women's Day, Sunday, March 8 for eighth-graders. So I actually started my local government, or I guess, I started my leadership in the community through PTA, through public education. So it'll always be something that I'm very passionate about. And I'd love to work with students in any way. And I'm open to sharing ideas and hearing ideas. 
 If you have any ideas feel free to email the mayor at [email protected] "Your mayor is listening"
Details of the "Norman Forward" projects can be found here http://www.normanok.gov/cm/norman-forward
About the Contributor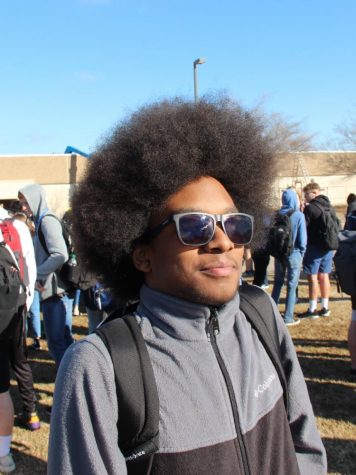 Thomas Richardson,
bio unlivable... currently out taking pictures or making a video.