Filling The World With Silly Love Songs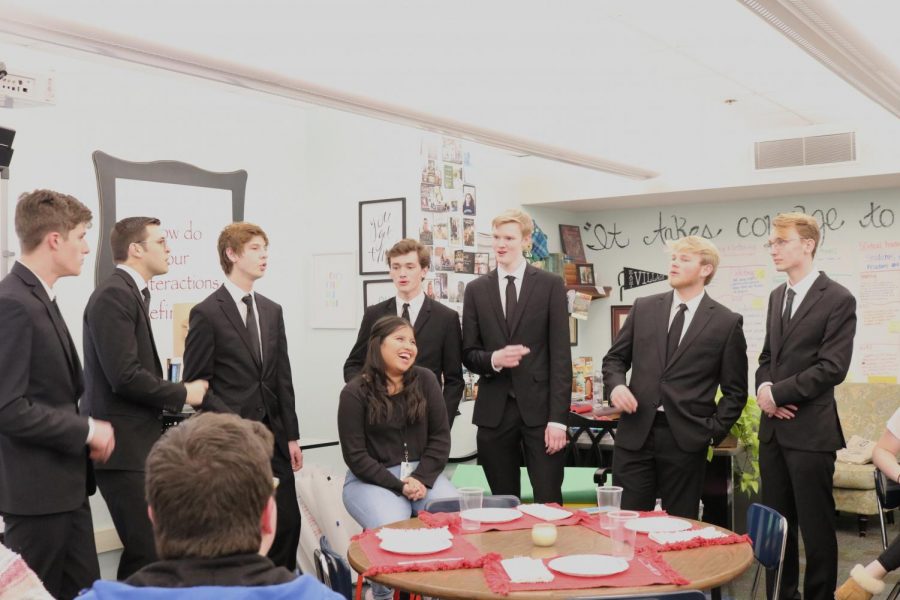 On Friday, February 14th, the Jazz choir traveled around the school singing to students who received Val-o-grams from their peers.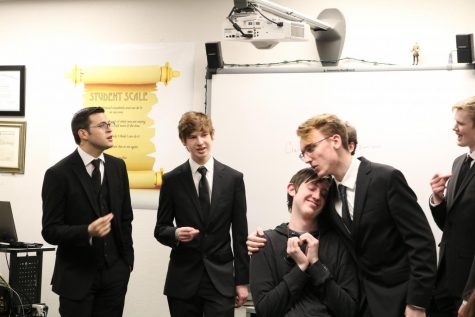 Val-o-grams are little bundles of joy, or embarrassment, that students purchase at overtime or during lunch the week before Valentine's day. The girls and boys in Jazz choir prepared four songs to sing to the students who received a Val-o-grams from friends and loved ones. As the boys traveled around the school serenading students, people gathered around to hear them sing. Some of the songs that the boys sang were I'm Yours by Jason Mraz, Come and Go with Me by the Dell Vikings, The Longest Time by Billy Joel, and One Fine Day by the Chiffons. As soon as the guys walked into the classroom, the students and teachers immediately knew what was about to happen. The recipient of the Val-o-grams is told to sit in a chair as the ensemble sings to them in front of the whole class. Most of the time, the person in the "hot seat" ends up being embarrassed by the singing and funny dance moves. 
I also got the chance to ask a few of them why they liked doing this for Valentine's day every year: 
"The best part of Val-o-grams is embarrassing people with songs, and the worst part is being sweaty and wearing black all day." – Caden Lovelace
"I like singing for people on valentines day because singing is something I am passionate about and it brings people joy" – Luke Byrd
"My favorite part of singing is connecting on a deeper level and sharing joy." – Jayson Gorton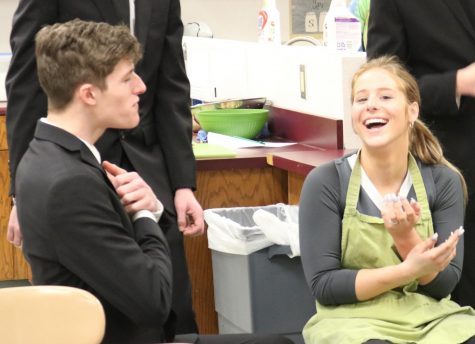 The boys who performed Val-o-grams are:
Jayson Gorton – Sophomore
Luke Byrd – Junior
Caden Lovelace – Junior
Jack Adams – Senior 
Braden Henson – Senior
Davey Madden – Senior
Will Windes – Senior 
About the Contributor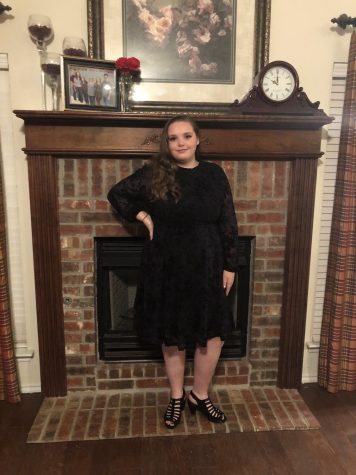 Jenna Hamburger,
Jenna Hamburger is a freshman at Norman North. She is involved in band, yearbook, and a little bit of newspaper. Jenna enjoys spending time with friends and family, reading, and playing her clarinet. After high school, Jenna hopes to go to college and become a veterinarian.