Millions of Scenarios, One Result
On February 21st, the organization Oklahoma Challenge delivered their distracted-driving presentation in the Freshmen Academy to classes that signed up to participate. Linda Terrell, a member of Oklahoma Challenge, was there as well as Sergeant Heather Reed, and Bryan, a recruiter for The National Guard and volunteer firefighter. Sergeant Reed visits high schools to tell her story about driving while extremely tired. Bryan has seen first hand, victims of fatal car crashes. Oklahoma Challenge began their presentation by outlining three types of distraction, visual, manual, and cognitive. Visual can be anything from a cell phone to a bright (sometimes moving) billboard. Manual can be changing the radio, fixing your GPS, or adjusting the air conditioning. Cognitive, the biggest of the bunch since it affects all aspects with what you're thinking and what you're doing. Cognitive can include, arguing while driving, being tired while driving, and drunk driving. 
The statistics are surprising, one in five 16-year-olds crash in their first year of driving. This may be a result of inattentional blindness. For example, driving through a red light without even noticing. In 2016 in the U.S. 3,450 people died in motor vehicle crashes caused by distracted drivers. Drivers are 4 times more likely to crash while talking on the phone and 23 times more likely to crash while texting. These deadly behaviors are credited to our addiction to our phones. Reports show that 69% of teens ages 16-18 engage in dangerous behavior, 89% of ages 19-24, 79% of ages 25-39, 67% of ages 60-74, and 69% of ages 75+. Yes, even elders are addicted! Not to mention that texting while driving carries a $100 fee. But don't fret, "You can keep your friends safe!" 78% of teen drivers say they're likely not to text and drive if friends tell them it's wrong. 44% of teens would even be thankful if a passenger complained about their dangerous habit. And 90% say they would stop if a friend in the car asked. 
"
There is no text or social media post that is worth your life or the lives around you.""
— Oklahoma Promise
Why might this be tricky and what can you do? 82% of Americans report feeling pressured by friends and family to NOT use their phones while driving, but there is more than one solution. Have a designated texter or caller when driving. Make sure to pull over to eat, as this can cause distracted driving. And always make sure everyone in the car is buckled up, including yourself! There is a feature on the iPhone called: Do-Not-Disturb-While-Driving. It silences alerts for the duration of your drive and replies that the receiver is driving. Newer Androids have apps available that will do the same. If you can't wait, call/text before driving, or pull over to a safe location to check texts/calls and eat food.
If you're interested in learning more about the Oklahoma Challenge, you can check their website out at OklahomaChallenge.org; Twitter @OK_Challenge; and Instagram oklahomachallenge. 
About the Writer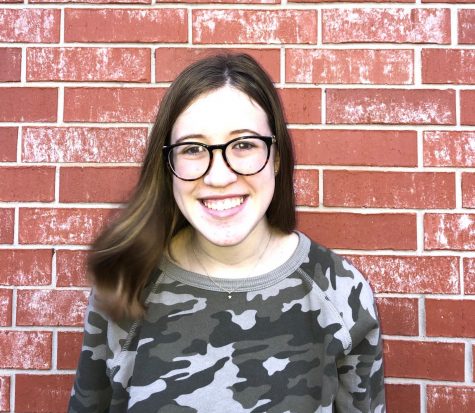 Caroline Carpenter, Editor
Freshman editor for The Howl. This is my first year being in a publication class. I'm the vice president of Norman North's Book Club. I love traveling, baking, and being with friends and family.
After high school, I hope to go to OU to become a nurse.