Sign of the Times
On Wednesday, February 5th, student-athletes signed letters of intent to play sports at the collegiate level. The school had twelve athletes participate in the second official signing day of the 20/21 school year.
Swimming had two signees, Aiden Hayes and Bria Boreham, both signing to continue on at Division I schools. Aiden Hayes signed with the North Carolina State and Bria Boreham signing with the University of North Florida. 
Jade Robinson will continue running cross country and track at Oklahoma Baptist University in Shawnee. 
The football program had six athletes sign. Prior to Wednesday, football has had 61 players sign to go to the next level. Pierce Hassen decided to go onto Southwestern Oklahoma State University. Zach Ivy signed to go to Missouri Southern State University. Landen Lehenbauer and Jeremiah Tolefree both signed to go to colleges in Kansas. Lehenbauer to Southwestern College and Tolefree to Pittsburg State University. The last football signee was Walter Young Bear who decided to go onto the University of Tulsa as a preferred walk-on.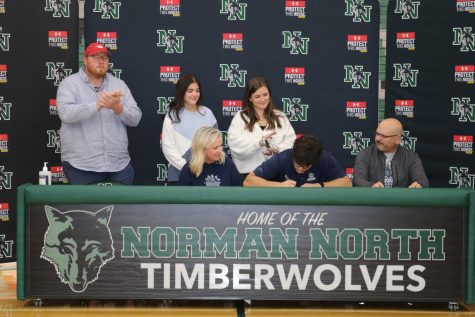 Soccer had three signees.  Angus Oglesby and Sebastian Maruri committed to Southwestern Christian University in Bethany, while Meredith McAlester chose Trinity as her collegiate soccer home.
Earlier this school year, in November, the school had five athletes also sign to continue competing at the next level.
The girl's basketball team had three signees. Shamica Smith signed to Southwestern Oklahoma State University, Kennedy Cummings to East Central University, and Fatima Black to Morgan State University.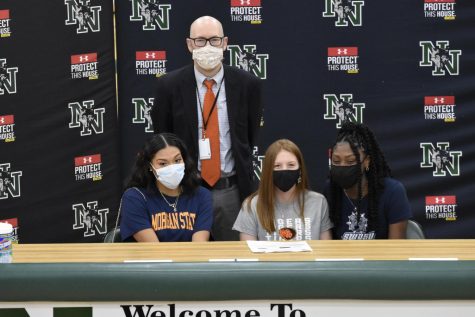 Hunter Jones signed to continue playing baseball at Oklahoma Christian University.
Parker Seybolt will be continuing to play soccer at Southwestern Christian University.