North Alum Trae Young On Track To Become 2022 NBA All-Star!
Trae Young, a former Norman North student-athlete, is second in all-star voting for Eastern Conference guards, with over 2 million votes as of now. He is currently the 11th most voted player in the league and 5th in his conference. Young had a lot of success in his time as a Timberwolf, averaging 34.2 points, 4.6 rebounds, and 4.6 assists per game.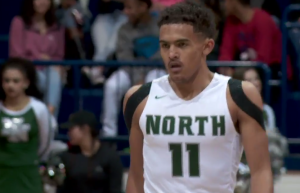 In 2016 he led the team to a 24-4 record, a regional title, and made it all the way to the Oklahoma Class 6A championship game. Young's skills translated well into the NBA, becoming the second player to have 30 points and 10 assists in a playoff debut. In his second year in the league, he averaged 29.6 points per game, the only sophomore to average this much in almost 40 years. Also in his second year, he became one of five players in NBA history to average 29 points and 9 assists. Young was an all-star starter in 2020, at the young age of 21, and despite his double-double performance, his team lost in the final minutes by two points. He is on track to become a starter again this year, and he is only 23 years old, leaving a long future ahead of him.