Cinderfella, Cinderfella
On Tuesday, Jan. 8, SPUD held the annual Cinderfella event in the North Gym during second hour.
Cinderfella is one of the first events that help raise money for SPUD during the week. Students could either have bought a wristband for $25 that would give them access to all of the SPUD events, or buy a wristband specific for Cinderfella for $5.
Cinderfella is a parody of a traditional beauty pageant where only guys compete. This year was unique by employing a student judge.
Cinderfella is typically the biggest event of the week. This year, however, student attendance was low in comparison to previous years, according to four-year contestant Jackson Harrington. When asked about the atmosphere of Cinderfella, Harrington said that the crowd "wasn't the best this year."
"It was a lot of fun this year. The guys I did it with I knew more from this year than when I did it last year. The crowd wasn't the best this year. It was very quiet. TJ [Guess] went out there and it was like crickets; you could have heard a pin drop."
To kick off SPUD week, Cinderfella was the first day-event held during 2nd hour. 8 guys competed for the crown. Events included a swimsuit portion, talent portion, and question and answer portion.
The swimsuit portion consisted of contestants wearing different colored swimsuits. Contestant Javion Combs wore a white T-shirt with blue trunks while Jackson Harrington wore a grey suit.
The talent portion was mostly made up of singing, with four contestants showing off their best song. There were other talents as well, with Connor Leeviraphan showing off his basketball talent and Rocco Middleton doing the hot chile challenge with Jackson Harrington.
Each judge had a list of questions for the contestants about the future, their special talents, celebrity crushes, what their last meal would be, dating questions, and their favorite thing about SPUD. However, each contestant got a different set of questions.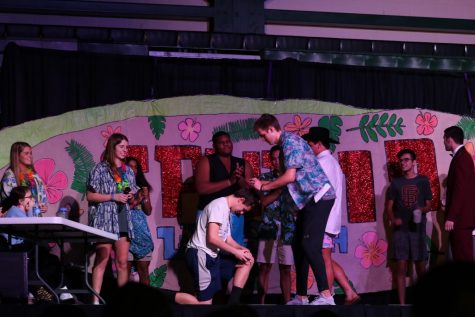 The four judges decided on George DeLuca for the crown. He "likes catholic girls" and was very entertaining. For his talent portion, he sang Can't Take My Eyes Off of You to Ms. Lawson.
Leave a Comment
About the Contributor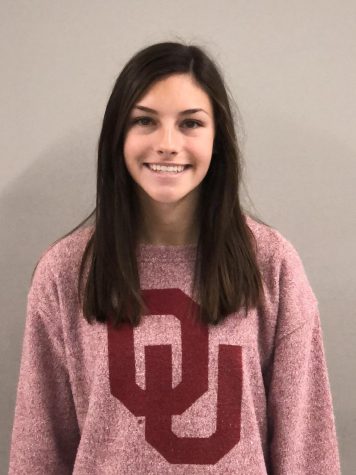 Blaine Bruton, Editor/Admin
I am a junior and this is my third year in a publications class.  This year I am the Business Manager for Northward Bound & The Howl.  I work with Walsworth and the publication's staff securing advertising for our yearbook and our newspaper while advertising those publications to our students.  I enjoy finding and writing about events that make up the news.  In my free time, I enjoy cooking, especially baking.  One of my favorite places to relax is along Broken Bow Lake where my family has a cabin.