ChoreoDance All-City Concert 2022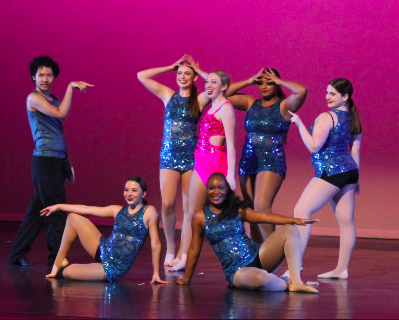 On Thursday, April 30th in the Nancy O'Brien performing arts center the modern dance class of Norman North and Norman High gave their end-of-year performance. The performance consisted of pieces choreographed by students and teachers. One of the dances performed was a dance to honor graduating seniors of the 2022 class with a slideshow in the background playing pictures of the seniors. The show included many fun pieces such as "Speakeasy" choreographed by freshman Ryan Hopper and "cafe vaudeville" choreographed by Ms. Graf and dancers. Some of this writer's favorite pieces performed was  "It Girl" choreographed by senior Emma Newman, "The Silver Lining of the Six Muses" choreographed by freshman Anja Fisher, and "The Fallen" choreographed by junior Emily Slate.
"It Girl" was a fun energetic piece that showcased Emily Slate as a soloist as the "It girl". The dancers wore fun blue sparkly costumes with the soloist in a hot pink costume.
"The Silver Lining of the Six Muses" was also a very fun piece. The music chosen was Disney's opening music to their movie "Hercules" a personal favorite movie. The costumes were all Geek-themed and flowing, well-fitting with the music chosen.
"The Fallen" was a moving, emotional piece, showcasing Emily Slate as a soloist. The dancers told a story through emotion and movement. The music sang of soldiers going off to war and sadness. At the end of the piece, one dancer at a time would throw a white kerchief in the air and fall to the ground.
Overall the ChoreoDance All-City Concert exceeded expectations and this writer was highly impressed by the talent at Norman North High school. It was a wonderful experience and a wonderful way to appreciate the art of dance.