North is in Her Dett
On Wednesday, November 17, 2021, we had the chance to interview Mrs. Dettmann, one of our teacher librarians, who won Norman North teacher of the year. Mrs. Dettmann has worked at North for 4 years now.
What inspired you to become a teacher/librarian?
Well, I was a public librarian first and my inspiration for becoming a school librarian was when I would go to other schools and do outreach, I worked in Moore and so I went to Moore High School a lot. Those are my favorite days. And I was just like, oh, you know, I really just want to be in a school and work with teenagers all the time, whereas when I was a public librarian there are transportation issues, people have jobs so you don't see the teens like as much as you do in like the school where y'all have to be here. And that really inspired me. Also, My mom was a teacher, My grandma was a teacher and my husband is a teacher too. so I knew it's a really honorable noble profession and working with students and helping them find that great read or figure out those like research skills and be prepared after y'all leave. And I knew I wanted to work with high school, I knew I wanted to work with older kids. I was not feeling the middle school age so I was really lucky to get the job here.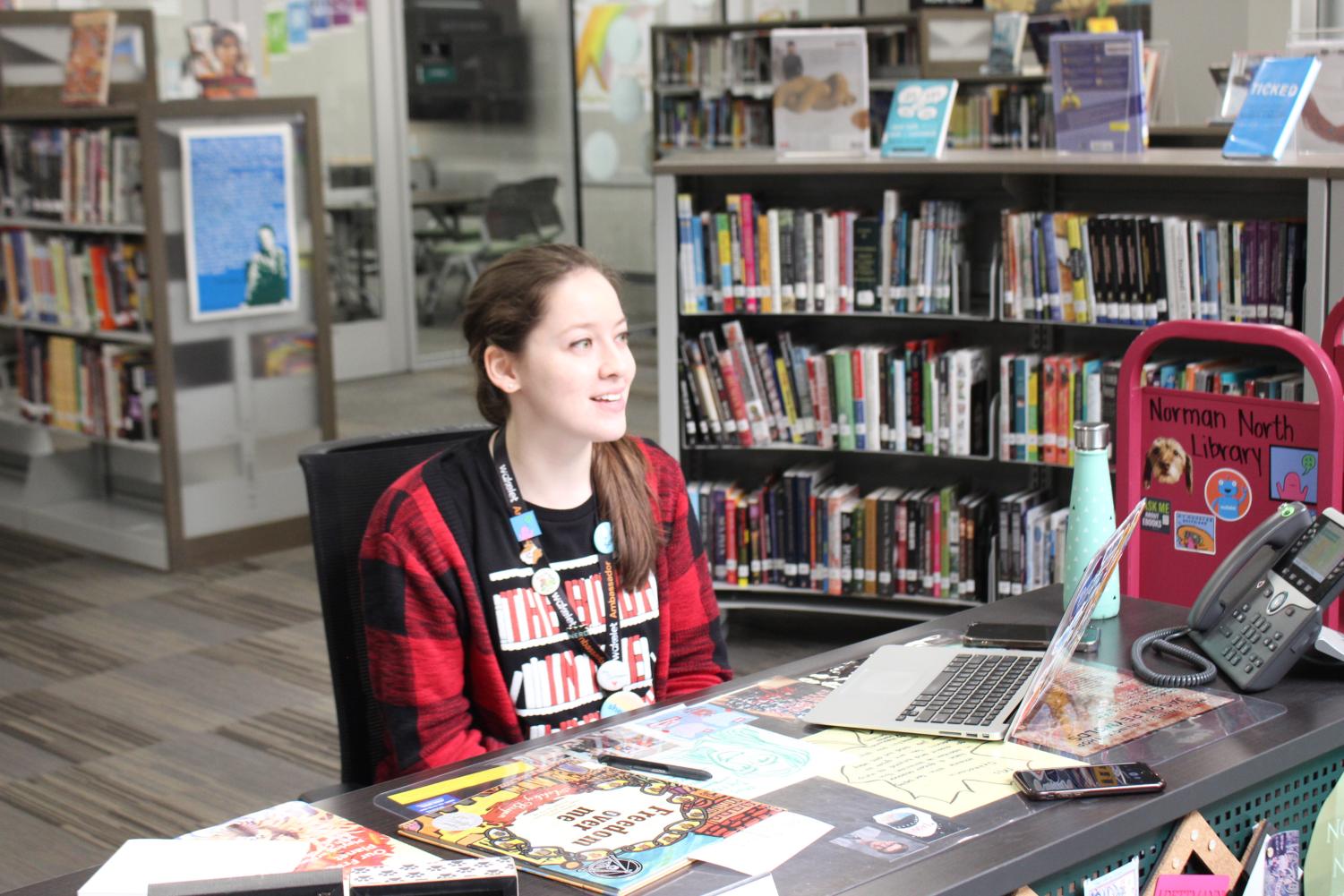 And how did you become a teacher/librarian? 
I had to get a Master's degree in Library and Information Studies. Then I had to get extra certification and extra courses after I got the job here. So I had to pass three different certification tests and I took an additional nine hours of college credit to be a certified teacher-librarian.
What was it like to be nominated for Teacher of the Year?
It was really cool, I was really shocked when they read over the announcement, my jaw dropped, and then there were a couple of kids in my class. And then I was like, Oh, that was me. And they just looked at me like, "Okay, that's cool," so I was pretty shocked. But I mean, it was just such an honor. I mean, our other two nominees, Mrs. Bagg and Mrs. Capps are awesome, amazing teachers. So it was just that I was in really good company. And it was just a shock but an honor. 
What was it like when it was announced that you won Teacher of the Year?
Well, they said, hey, come to the office, and then I thought, "Oh, they're really gonna make us all stand here." That's so awkward. But then they announced I won and I thought, wow, that's really cool. And then we have classes and other stuff going on. So I was like, okay, back to business.
Did you celebrate with your colleagues or teacher friends?
A lot of people told me "Congrats" [and] I got a lot of hugs and a lot of fist bumps. So that was lovely and wonderful. But I really didn't go out and have a party since it happened. Although I did go out to a nice dinner with my husband last night. It's like a belated congrats.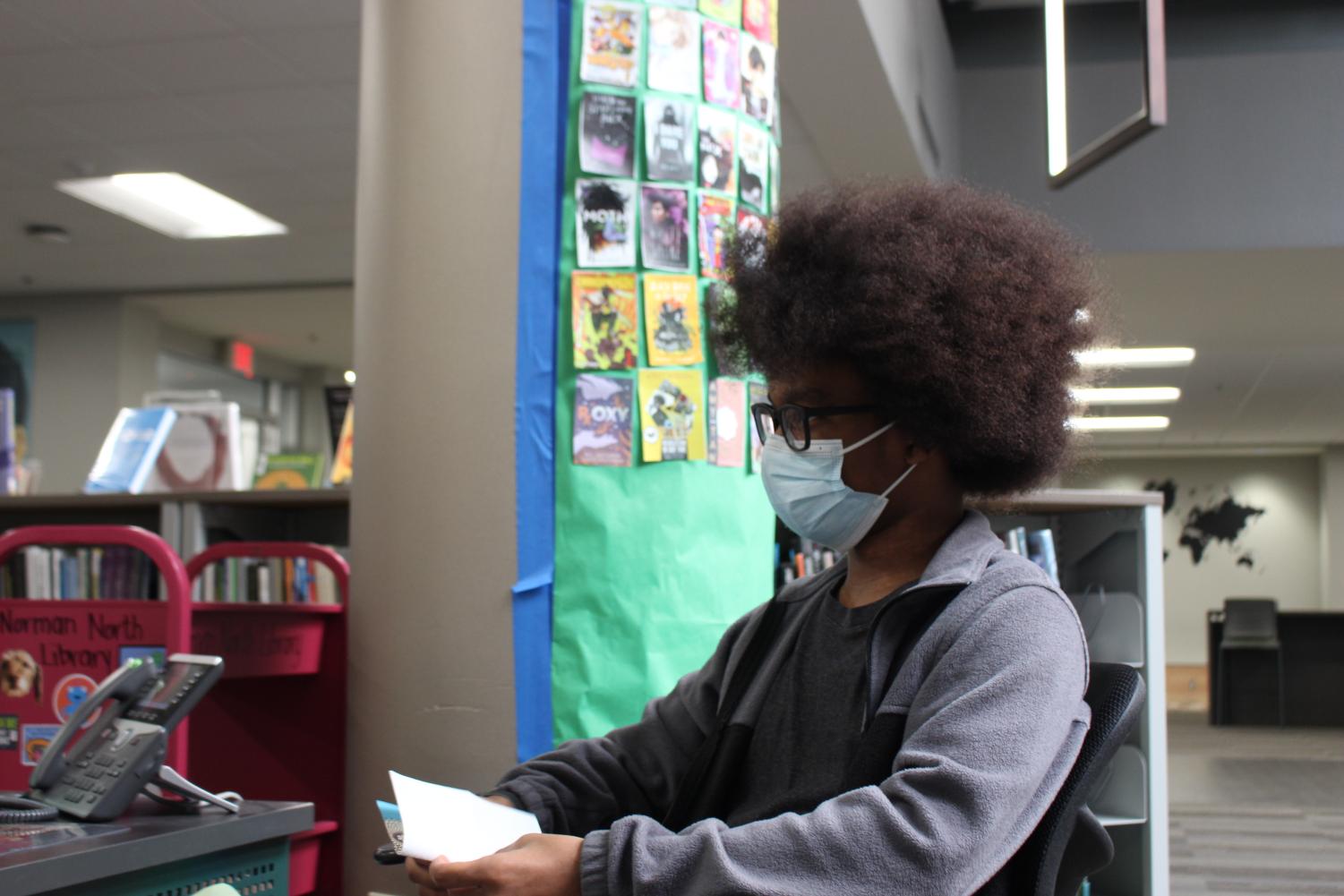 What are your next steps from here? Are you trying to be district teacher of the year?
Well there's a process, so there's like a portfolio I have to do and I think there's some interviews. So of course I'm going to represent North proudly. But I don't know 100%. They are finalists for the district, and then the district winner then goes on to compete for State like what Mrs. Eschbach did last year. I'm going to do my best to represent our school proudly.
What are your career goals for the next five to ten years?
That's a hard one, I love my job here. So it's not like there's a next step really, but we do have a director of our libraries, but that job looks really hard. I like what I do here a lot, and I hope to stay here as long as possible. But I mean, if that ever happened, that would be a cool career goal. I also really work a lot with our state organization. So I'm hoping to eventually be president of our Library Association. But again, that's some stuff that takes a lot of work that's going to take a while.