This Halloween season Norman North High School Students are getting involved in activities that benefit various causes. Spooktacular, trunk-or-treats and other activities give these students an opportunity to give back to various people and their community.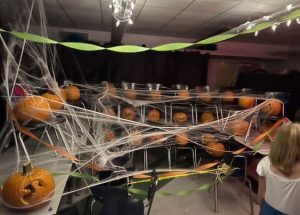 Joshua Garner, a senior at NNHS, is participating in a trunk-or-treat event at the Immanuel Baptist Church in Norman.
"I help my dad decorate his car and set up the church area to help it go safely and smoothly," Garner said.
Garner also said he loves spending time with his dad decorating his truck, and that is what he thinks is the appeal of the volunteers.
Story continues below advertisement
Trunk-or-treating is designed to create safe environments for kids to get candy while also maintaining the holiday atmosphere. Garner said his favorite part of the event is seeing how happy the holiday makes the kids.
Another student getting involved is NNHS junior McCartney Holmes. She is the officer of community events with Distributive Education Clubs of America (DECA) and is planning and participating in the Spooktacular.
During this event, different clubs decorate their classrooms for kids to walk around in their costumes and collect candy from, just like trick-or-treating. The students and staff hosting Spooktacular dress-up as well.
"This is a trick-or-treating event for children, where the kids go around the school to trick-or-treat, and Norman North clubs host rooms for kids to get candy out of." Said Holmes.
The proceeds from Spooktacular will benefit the Norman North Special Olympics team, the T-Wolves. Holmes said DECA wanted to donate the money fundraised to an organization in our community so they chose the T-Wolves. 
Holmes said she got involved with Spooktacular last year, and she was inspired by the fundraiser to participate. 
"I would tell everyone to participate in the event, if you're in a club, host a room, or if you have little siblings, bring them to the event." Said Holmes.
Getting involved is the first step these students are taking to not only benefit their community but also themselves.
"I would tell everyone to always try and be involved with your community because this experience has really helped me not only get into the season but to also have fun with the holiday now that I'm older than trick-or-treating age," said Garner.