That's the Way the Cookie Crumbles
There have been many starts, false starts, firsts, and new definitions of what normal is now.  When DECA began looking down the long hall of COVID, they realized that they were not immune to all of the changes present In the North. Throughout the pandemic, many interests of the school have been affected. DECA is known as the cookie place. Students can normally buy two cookies for a dollar, but they had to change their prices to three cookies for two dollars.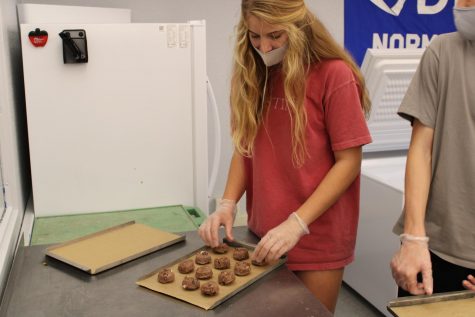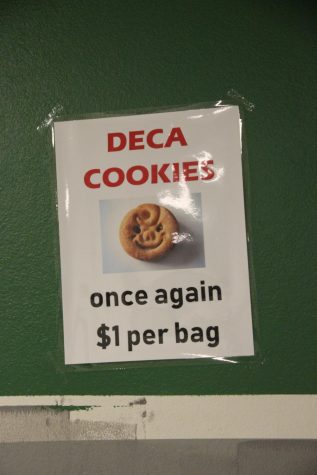 Why were cookie prices raised to 3 for $2?
Mr. Wilson: "Cookie prices were raised due to the rise of the costs per carton of cookies, cost of gloves and other supplies from our wholesale distributor.  They raised the prices on us as their prices were increased by their supplier, Otis Spunkmeyer, same with the gloves and bags.  Covid has caused numerous factories across the country to reduce staffing which reduces supply.  It's standard economics of supply and demand.  Less supply = higher prices.  I was, however, able to work with our supplier late last week and negotiate a lower price for cookies to the point that I am comfortable going back to the original price of $1 for 2 cookies.  That works for now but may cause increases in the future."

Poster to tell students cookie prices have increased. (| Thomas Richardson )
How have DECA competitions been affected since COVID 19? 
Mr. Wilson: "Covid has definitely affected DECA both locally and internationally.  Last school year, our international competition was canceled which was scheduled in April in Nashville.  So far this year, our regional conferences have gone virtual as has our Fall Leadership Conference.  We have our state competition in February in Midwest City but no word on that one yet.  Our 2021 international competition is not until April and is scheduled for Anaheim, CA but no word on that yet either. Hopefully, both will be in person and not virtually done."
Due to inclement weather, DECA's yearly event, Spooktacular, got canceled. This event is held for the community, where children dressed in their Halloween costume and come to the school to trick-or-treat. This is one of the many events that DECA had to cancel.
What steps do students go through to sell cookies, safely? 
Mr. Wilson: "We have a full hour and a half of "cookie training" to make sure the operation runs smoothly.  We have different cookie jobs for all students on cookie days: trays, packaging, and sales.  All are done the exact way I want them done to assure quality control and cleanliness.  All students wear gloves and masks for each position.  We also have a Manager that directs each sales group as they leave my room to sell cookies.  Money is always under dual control to assure honesty as well.  This year, we are also stapling each bag which is an additional step to keep cookies uncontaminated.  Hourly, my students clean our cookie area with Clorox wipes to make the area ready for the next hour.  Trays used during the day for the cookies are washed at the end of the cookie day.  We try really hard to maintain safety for all NN students and for all my DECA students each and every cookie day."

DECA students staple shut cookie bags to increases safety. (| Aniston Tiller)
About the Writer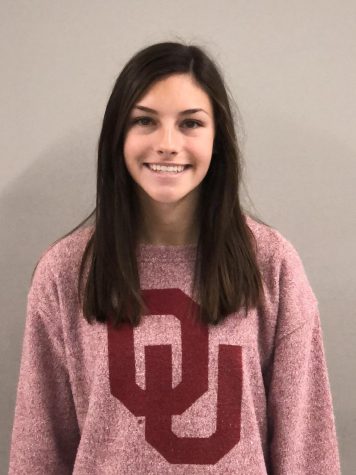 Blaine Bruton, Editor/Admin
I am a junior and this is my third year in a publications class.  This year I am the Business Manager for Northward Bound & The Howl.  I work with Walsworth and the publication's staff securing advertising for our yearbook and our newspaper while advertising those publications to our students.  I enjoy finding and writing about events that make up the news.  In my free time, I enjoy cooking, especially baking.  One of my favorite places to relax is along Broken Bow Lake where my family has a cabin.