WolfPack Wednesday
On Wednesday, February 3rd, WolfPack Wednesday is set to begin. This was designed to help:
Students who have been placed in quarantine and are struggling to keep up with their classes

Students who are returning from quarantine after missing multiple days of school and need additional help understanding academic content

Students who are on blended or virtual learning schedules and need additional support in their virtual classes

Students who want to be at Norman North all day or prefer utilizing our study hall to complete work

Students who need help with Canvas

Students taking a rigorous course load and would like to be able to devote more time to certain courses
WolfPack Wednesday was also designed to help teachers. It will give them time to grade papers, prepare Canvas, and work with students.
On Wednesdays, students will have the option to either come to school or stay home in a virtual setting. If one does stay home, a parent has to contact the student's attendance secretary. Below are some of the options for students.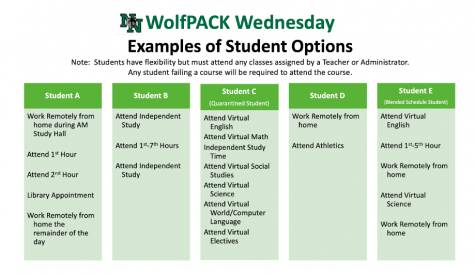 When attending North, Wednesday's will look different than a typical school day. The morning will start with a one-hour independent study period. Then, the class periods will begin, but only lasting 30 minutes. Lunches for all grades is 45 minutes – upperclassman 4th hour and freshmen 5th hour.  The last hour and a half of the day is another independent study period.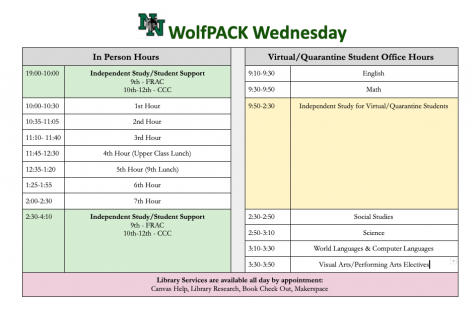 Shortened Class Sessions:
The first column lists the schedule for our shortened class periods.  The shortened class periods are designed for in-person academic help.  Any student currently failing a class will automatically be assigned to attend, as well as teachers may assign students to attend.  In addition, students can choose to attend their classes for extra help.  Students have the option to attend classes as needed on Wednesday, or can choose to work remotely from home.  If your student chooses to work from home on Wednesday, please make sure to contact your attendance secretary.
Virtual/Quarantine Office Hours:
The second column lists the available Virtual/Quarantine Office Hours.  We know missing multiple days of school due to quarantine has been challenging for our students.  WolfPACK Wednesday builds in non-conflicting Virtual Office times for students.  Any student in quarantine or self-quarantining is expected to check in with their teachers during the assigned time.  During this time, teachers can provide clarification on material, answer questions, provide instruction or other activities to support student success.  
We also know some students on Blended Learning schedules have conflicts between their in-person classes and when their virtual teacher may be available.  These office hours will also be used to support Virtual classes.
Independent Study/Student Support:
Independent Study is available for all students at Norman North each at the beginning and end of the day.  The 9th Grade Independent Study will be in the Freshman Academy (FRAC) and the 10th-12th Grade Independent Study will be in the College and Career Center (CCC).  All students will be supervised by staff during Independent Study and expected to follow Norman North's behavior expectations.
Below are some frequently asked questions:
What are the reasons a student would be in the building on WolfPACK Wednesday?
Students that need help in one or more class

Students not passing one or more courses

Students assigned to attend by a teacher

Students who prefer to attend classes and do not want to work remotely from home

Students who need Wi-Fi to complete assignments

Students who need to complete a missing assignment/quiz/test, as arranged by the teacher

Students whose parents want them to attend school all-day

Students who want a quiet place to study or work during Independent Study time

Students who want to use one of the Library Service
How do I know if my student can work from home on WolfPACK Wednesday?
Students who are maintaining good grades

Students whose parents are comfortable with their student working remotely from home

Students who feel confident in their courses and have not been assigned to attend classes

Students who can successfully complete the virtual work provided that day from home
What will students choosing to work from home do on WolfPACK Wednesday? 
Students will be expected to make academic progress on Wednesday. The work assigned by teachers will be appropriate for a virtual setting and support content progress.  
How will this day benefit my AP/Honors Student?
Often in our advanced courses, students are assigned work that requires an extended period of focus. WolfPACK Wednesday allows them time to complete such assignments without doing so late into the evening.

Collaboration is also an important part of advanced coursework. The flexible schedule allows time for students to work together virtually on projects and presentations.

Academic content will continue to move forward with appropriate remote academic tasks/assignments.  In addition, students will have the opportunity to take advantage of library services, give extended time to complete projects or subject areas that require extra time, and/or attend shortened classes for help.
What safety protocols will be followed?
Norman North will continue to follow all current safety protocols in place on WolfPACK Wednesday. 
What are the behavior expectations for students on WolfPACK Wednesday?
Students are expected to follow the bell schedule

Once the bell rings, students should be in their class, Independent Study location, or Library. Students will not be permitted in the hallway without a pass during class time

Students are expected to follow all of the NN Code of Conduct guidelines

For lunch, Grades 10-12 will be permitted to leave campus.  Grade 9 students must remain on campus during lunch
How will attendance be taken?
Any student not present will be counted absent.

Students working remotely from home will need to contact NN Attendance Secretaries to report their student is working remotely from home.
About the Contributor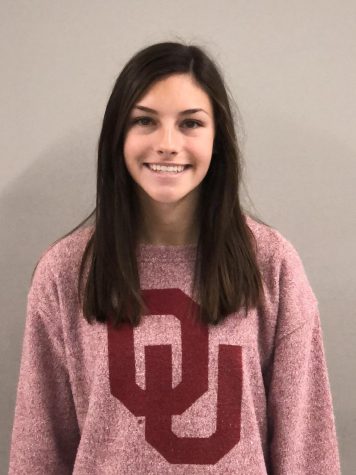 Blaine Bruton, Editor/Admin
I am a junior and this is my third year in a publications class.  This year I am the Business Manager for Northward Bound & The Howl.  I work with Walsworth and the publication's staff securing advertising for our yearbook and our newspaper while advertising those publications to our students.  I enjoy finding and writing about events that make up the news.  In my free time, I enjoy cooking, especially baking.  One of my favorite places to relax is along Broken Bow Lake where my family has a cabin.