North Cages The Bulldogs
On Friday, September 10th, the football team played their second home game versus Edmond Memorial. 
The boys came out strong with an early touchdown from Chapman McKown. The offensive momentum only continued from there as the boys ended with a dominant win beating Memorial 49-25. 
Although North had its fair share of defensive woes by allowing the winless Memorial 25 points, there is no concern on the offensive side of the ball where the Timberwolves put up 7 touchdowns.
Three of those touchdowns came from Junior running back Chapman McKown who ended with an impressive 213 yards on 18 carries.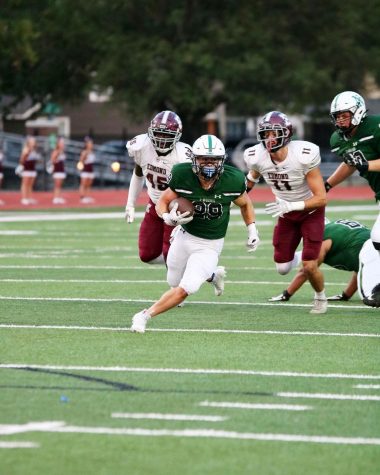 Starting quarterback, Gavin Frakes, ended with 10/12 completed passes and 13 carries for 132 yards.
Frakes felt good about the outcome of the game stating, "I thought we had a really good game vs Memorial. Our offense was doing whatever we wanted every play and driving the ball, but we still need to eliminate the penalties." Frakes said,  "We can't get away with having 15+ penalties vs. a really good team, so we need to clean those up. However, we'll always take a win and we're happy with where we're at."
The matchup against the Bulldogs keeps team's undefeated record at 2-0. The Timberwolves will travel to face Yukon this Friday at 7pm.