Two Victories Two Queens and a King Crown the Night
On Friday, January 31st, the All Sports coronation was held in between the girls and boys basketball games vs Mustang High School.

During advisory on Thursday, students voted for their favorite athlete to represent the school as All-Sports Royalty based on the nominees. A girl and a boy from the senior class were chosen to represent each sport for the coronation. The nominees were:

Cross Country: Jason Friend and Erin Floyd

Swim: Jonathan Tang and Corrie Williams

Basketball: Reid Rasnic and Jessika Evans

Track: Cameron Shropshire and Ainsley Hime

Soccer: Sully Newton and Jamie McGinnis

Tennis: Carson Nash and Clancy Tresemer

Golf: Charlie Jackson and Catherine Sullivan

Football: Jachin McDonald

Pom: Addison Horn

Baseball: Annan Finley

Fast-Pitch Softball: Grace Heefner

Slow-Pitch Softball: Marissa Dunn

Wrestling: Jacob Zimmer

Cheer: Emmy Matthews

Volleyball: Jacqueline Wright

"

For the first time in Norman North history, there were two queens crowned"

— Macie West

.

Erin Floyd and Jessika Evans were tied for All Sports Queen and Reid Rasnic was named All Sports King.

Both basketball teams beat Mustang High School. The final score of the girls was 49-45 and boys 59-52.
About the Contributor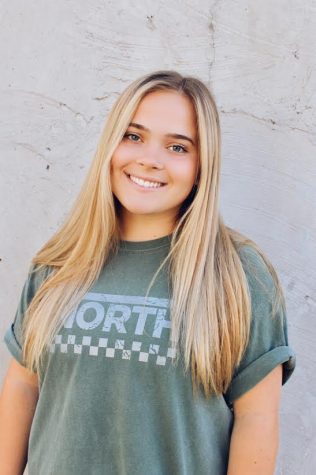 Macie West, Sports Editor
My name is Macie West. Sophomore and Sports Editor for Norman North Publications, Northward Bound & The Howl.  I enjoy watching football and basketball. Photography is also a big hobby of mine.