With only days left in the countdown until Crosstown Clash, anticipation is building in the student body at Norman North High School. Not only are the students confident in their team's ability, but Head Coach Justin Jones believes in the Timberwolves' ability to take the season.
"This is the first year in a long time that we've brought back as much experience as we have," says Jones.
Indeed the Timberwolves will see many players returning to the field this season.
Jones said returning players possess the experience needed to compete.
Story continues below advertisement
"We've got Harrison who's a Kansas commit and then obviously Kasen who's also a big-time prospect football-wise," says Jones.
Harrison Utley is a Senior and currently plays left tackle. He recently committed to the University of Kansas to continue his football career. Kasen Lee is also a Senior and currently plays right tackle. He has yet to commit but has received offers from the University of Nevada Las Vegas and the Air Force.
"I feel like this is a championship-level team when we are at our best, I think our team this year is better than last year all around," says senior, Kasen Lee.
These two players along with the rest of the Offensive Line leave Jones feeling confident about their performance in the coming season.
Moving from the Offensive Line, Jones is also preparing to break in players at the skill positions and moving players from both offense and defense to new positions.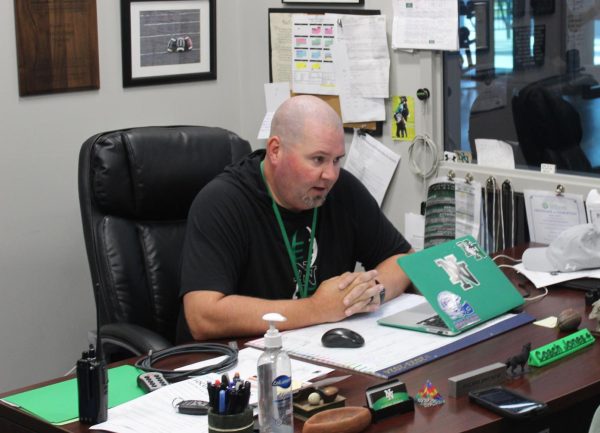 "From there, it's breaking in a bunch of guys, Zane Prater comes back with probably the most experience, Mason James, who started last year at corner for us is moving over to the offensive side so he's got some experience," says Jones.
Thursday will be the debut of junior, Owen Eshelman, as starting Quarterback. He is replacing Kamden Sixkiller.
"Owen Eshelman, who is going to start at Quarterback, has some experience from a defensive perspective," says Jones, "He got a start under his belt against Owasso last year so that will certainly help."
Besides experience, Jones also believes that his strength and conditioning program influences success on the field.
"I believe in our strength and conditioning program. I think it's one of the best around," says Jones, "I've seen guys mature and grow in the weight room, from strength to changing their body types."
Jones also believes in keeping a routine and keeping his process for preparing for the season similar to past seasons. He noted that one change they made this year was practicing in the mornings due to the extreme heat.
Besides physical preparation, Jones believes a mature team that can respond well to hardship is also a necessity.
"I think we're gonna be in really good shape, you know, I think the other mark of a mature team is, you know, how we respond to adversity," says Jones, "I think the biggest thing that the best teams understand is that one play doesn't define the outcome of a game."
Mental toughness and the ability to navigate through difficult situations is definitely a prevalent theme in the preparation for this season.
With the season opener being Crosstown Clash, fans from both sides are anticipating quite the game as Norman North and Norman High go head-to-head for the 26th year in a row.
"It would be coach speak if I said it's just another game, I mean obviously it's a rival game, it's big for our community," says Jones.
Crosstown Clash is not only special because of the rivalry this year, but the teams are returning to the Gaylord Family – Oklahoma Memorial Stadium for the first time in four years. The game was previously moved to the Harve Collins Stadium due to the COVID-19 pandemic.
"It's really big this year because we're back at OU, it's something a lot of our guys haven't had the chance to experience," said Jones, "Crosstown is always a little bit sweeter if you win that game, and if you don't win that game you got to live with it for a year."
Crosstown Clash is an important game not only for the students but the community. Jones acknowledges this but also wants to clarify that losing this game would not be detrimental to North's performance later in the season.
"It doesn't make or break our season," says Jones, "This is one game on the road of many, it's a non-district game at that but to say that it doesn't matter is not true, it does matter. It's a big game, we want to win that game every time we get a chance."
The Timberwolves' season opener will be against the Tigers at Gaylord Family – Oklahoma Memorial Stadium on Thursday, August 31st, at 7:30 PM.