Norman North cross-country girls and boys both placed on the ballot at the Westmoore High School cross-country meet in September. Students have been on the ballot each week, and the program has finished in the top five overall for cross-country meet this season. 
The varsity girls received first place overall at this meet.
This is the third official 5-kilometer race for the Norman North cross-country team. 
This meeting was held at Moore Norman Technology Center on the South Penn campus, though Westmoore High School hosted it. The MNTC has provided this trail since a previous incident in 2020, where a student was hit by a car.
Story continues below advertisement
This is the first time that Westmoore will be hosting this course.  Norman North Team members Seniors Jack Pardiwalla and Lexi Kotouckova had to strategize how they would compete on this course.
"Running the warm-up some of the hills were a little steep and might affect me on my second mile when running," said Kotouckova 
Head Coach of Norman North Cross Country Micheal Koscinski was also paying attention to what could challenge the runners, 
"With the course having many hills involved I would suspect that the runners who are participating in the meet are going to be behind a minute from their usual time, "said Koscinski.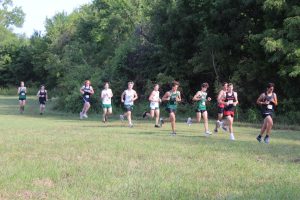 Pardiwalla, however, did not fall into this trap. He achieved a personal best time and finished 20th place for overall boys varsity. 
"I feel pretty good today, hopefully, I can bring a challenge because I've heard the course is slower, I will probably be a minute behind our average," said Pardiwalla. 
This was a win for Norman North Cross country, the girl's varsity team had placed first overall as a team for the girl's varsity
race. Senior Kinley Kite placed 3rd in the meet. 
Every single girl who ran in the varsity meet medaled 
Varsity boys placed fifth overall. Senior Jack Linley had medaled 4th in the boy's varsity meet. Senior Jonah Hays was also awarded a medal at 11th placed
Junior varsity girls placed 3rd overall in their race. Freshman Maleah Johnson finished in 5th place, and Senior Kiki Connerin finished in 16th place.
Norman North JV boys placed 4th on the ballot for overall of the entire JV boys team. 
Cross Country will run Regionals on Oct. 21 at Mustang and State is on Oct. 28 at Edmond Santa Fe.